Project - Bede Polding College
---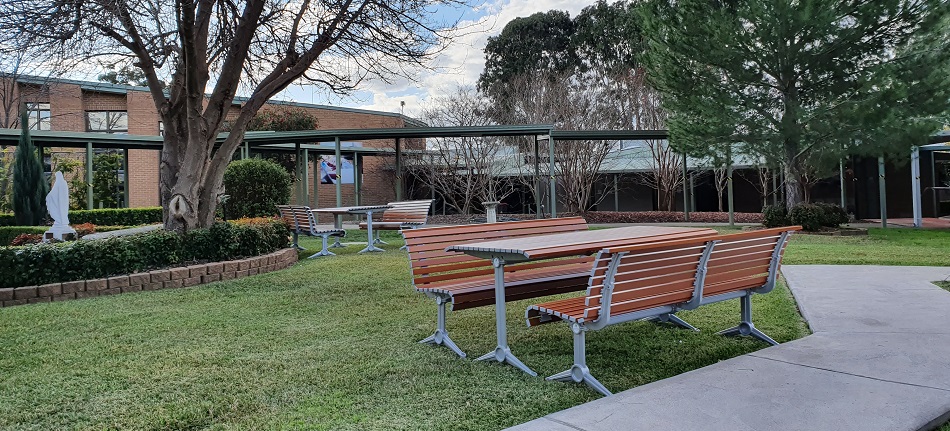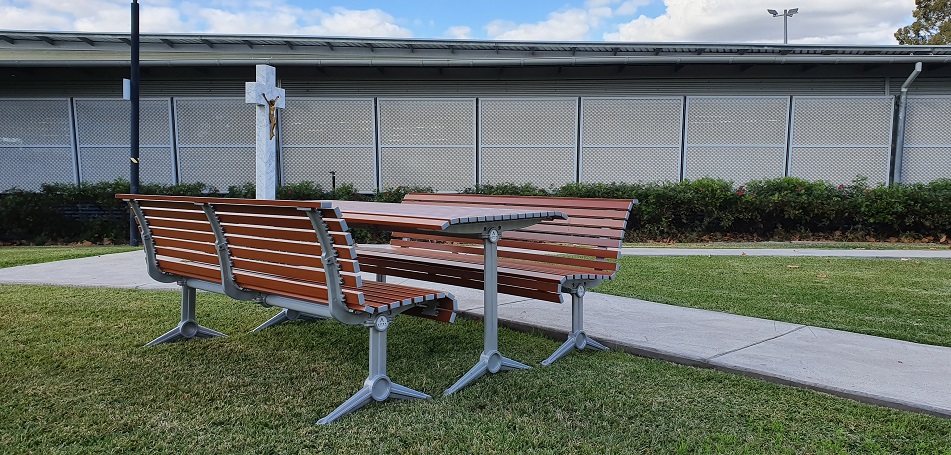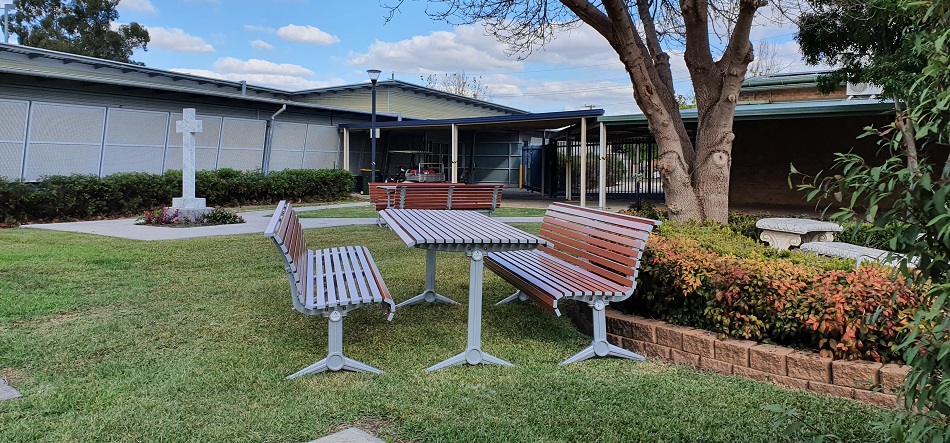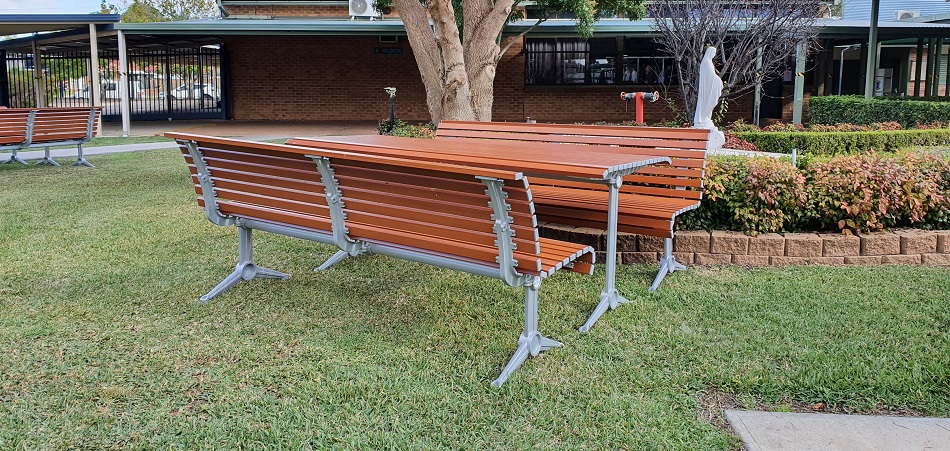 Client Bede Polding College
Location Rifle Range Road, South Windsor
Supplier Astra Street Furniture
Installer Supply Only
Date May 2020
Products
Madrid DDA Setting with Seats (Wood Grain Aluminium) – Splay Leg
Willoughby Timber Slat Bins
Car Park Signs
About Bede Polding College
Bede Polding College opened its gates in 1986 to a partially completed building at Rifle Range Road with only 110 pupils and 8 staff members which has now grown to over 1,200 students and 100 staff members. The college is still the only Catholic college in the Hawkesbury and services an area stretching from Lithgow to Marsden Park and Penrith to Gosford. It completed various building stages which generated more facilities and opportunities for the growing staff and students that were to attend the college.
The facilities that are offered include fully equipped industrial kitchens, wood and metal workshops, music recording and instrumental equipment, design and technology, agriculture, and greenspaces. It is important that the school can offer its students with the greatest opportunities possible in the safest manner. The layout of the school allows for multiple areas to enjoy recreationally and to rejuvenate during breaks of their working day. Aesthetically pleasing and comfortable outdoor furniture pieces are extremely important to the design of their outdoor areas and satisfaction of the students that occupy them.
About Astra Street Furniture
Astra is a member of the Area Safe Group and is the new flagship brand of premium outdoor furniture including DDA seats, benches, tables, picnic settings, bins, wheelie bin enclosures, bike racks and architectural bollards. Astra Street Furniture is 100% Australian designed and manufactured with Aluminium slats, recycled composite Enviroslats and sustainably sourced PEFC or FSC certified Merbau slats with stainless steel fasteners. The products are made with a sophisticated and well thought out design and increased durability to suit various conditions.
Easily customisable, Astra Street Furniture can be quickly supplied from stock components in custom lengths and special colours. The major benefit of Astra's Australian made range is that lead times are reduced to 1-4 business days against wait times of weeks for overseas manufactured products. The possibilities are endless and suited to fit parks, schools, shopping centres, public transport stations, commercial office campus' and communal spaces that need seats, benches, tables or all the above!
What the client said
The principal has a vision to improve the school facilities to a premium standard. The zone has a distinctive religious garden feature donated by an ex-student and needed some suitable free-standing seat & table settings that could be moved off the grass for mowing and with the flexibility to move them according to the 4 seasons to catch the sun (or shade). The Wood Grain powder coat finish on the Madrid settings is exactly what was required to save hours of their labour every year compared to old, high-maintenance timber slat furniture they got previously.
Astra Street Furniture were exceptionally helpful in providing slat samples to choose from and approve for ordering the right product for the application. When the seats arrived, the students were looking for a practical project so we got them to bolt them together. Great timing!
We are indeed happy with our latest purchase.